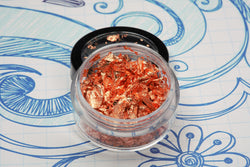 "GLF Cosmetics"
Copper Flakes
Our Copper Flakes  can be applied directly to the skin or can be combined with other products to create a more intense & high level metallic effect. Our flakes are safe to wear  around the eyes but please be careful when applying , face and body.
10g Jar 
Tips
You can add our Gold Flakes  over your:
• Lipstick
•Eyeshadow
•Hair-hair spray/gel
•Nail Polishes
Please note:
Our Copper Flakes are hand packed in 5g jars. 
 Weight vary based on the density of the product. 
-Containers can appear to be less than full due to settling of the product. 
Copper Flakes  is not recommended for use in the immediate eye area.