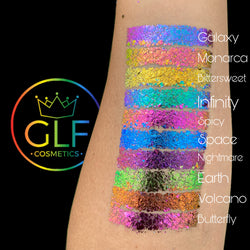 "GLF Cosmetics"
Bittersweet Multichrome Flakes
Our Multichrome Flakes have a sheer multi tonal effect with strong/almost metallic  finish. Apply over eyeshadow to give your look that extravagant finish of multi color effect.
For better adherence apply eyeshadow base before applying the Opal Multichrome Flakes. 


Can apply: 
Over eyeshadow 
Lips 
Hair
Body 
NOTE:
We recommend to be extra careful when applying around the eyes any fall outs can be very uncomfortable. 


Pigments weight vary based on the density of the product. 
-Containers can appear to be less than full due to settling of the product.